visitors/bezoekers/Besucher/visiteurs
(> April 2000)
Photo-Gallery - Fotoboek - Bilder - Photos


For sale (Updated 23 november 2002)
Here you will find an overview of a few things I have for sale, due to lack of space mainly.
Ø : gives the flywheel diameter, to give an idea of the engine size.
For more information on the engines, please see the "engines" page.
To proove the prices are reasonable, may I invite you to have a look at the "sold" page.
A replica cooling tank can be supplied for all Czech engines, at reasonable cost, fully riveted like the original (unpainted).
Guarantee : I will always sell engines at a lower price than you have been offered elsewhere (given a reasonable, realistic offer), because I am a collector, not a tradesman...
Dear fellow American (Canadian, Australian, ...) collectors :
people buy engines off me to sell them in America, and make good money doing so !
Why not buy directly from me ???
Contact me : jan_deklerck@hotmail.com


Te koop (Geactualiseerd op 23 november 2002)
Hier vind je een overzicht van 't een en 't ander dat ik over heb. Reden : gebrek aan plaats, vooral.
Ø : vliegwiel diameter. Dit geeft een idee van de grootte van de motor.
Meer informatie over de motoren vindt U op de "motoren" pagina.
En om U ervan te overtuigen dat de prijzen heel redelijk zijn, is er de "verkocht" pagina.
Voor alle Tsjechische motoren kan voor een redelijke prijs een nieuwe replica koelwatertank geleverd worden, geklonken zoals het origineel (ongeschilderd).

Garantie : Bij mij kan je motoren aan een lagere prijs kopen dan je elders aangeboden gekregen hebt (als dat aanbod redelijk en realistisch is, natuurlijk). Ik ben een verzamelaar, geen handelaar ...
Voor vragen altijd beschikbaar : jan_deklerck@hotmail.com

Zum Verkaufen (Überarbeitet 23 november 2002)
Hier finden Sie ein Übersicht von Sachen die Sie bei mir kaufen können. Ursache : Platzmangel, hauptsächlich.
Ø : Schwungrad Durchmesser, so können Sie sich ungefähr die Große der Motoren vorstellen.
Weitere Informationen finden Sie auf die "Motoren" Seite.
Und um Sie davon zu Uberzeugen das die Preise gut sind, gibt es die "Verkauft" Seite.
Für die Tschechische Motoren können sie ein neue replica Wassertank bekommen, voll genietet wie das original (nicht lackiert).
Garantie : Von mir können Sie immer ein billigeres Angebot fur Motoren bekommen als irgendeines anderes Angebot (wenn dieses Angebot realistisch und nicht unwahrscheinlich ist). Ich bin ein Sammler, kein Handler …
Sprechen Sie mich an : jan_deklerck@hotmail.com

A vendre (Actualisé le 23 novembre 2002)
Ci-dessous vous trouverez un aperçu des choses que je peux vous offrir a vendre. Dans la plu part des cas, a cause d'un manque de place.
Ø : diamètre des volants. Cette dimension donne une impression de la taille du moteur.
Si vous voulez plus d'informations, veuillez consulter la page "Moteurs".
Et pour vous convaincre que les prix sont raisonable, il y a la page "Vendu".
Pour les moteurs Chèches, un réservoir d'eau neuf peut être livré, riveté comme l'original (non-peint).
Garantie : Chez moi, vous obtiendrez toujours une offre plus favorable pour un moteur que ce que vous avez obtenu ailleurs (si cette autre offre est raisonable et réaliste). Je suis collectionneur, pas marchand …
Contactez-moi : jan_deklerck@hotmail.com
For sale | Te koop | Zum verkaufen | A vendre

Dobry 6-7 HP, 90 cm flywheel Ø, No 2730, ±800kg, ±1930






A quite rare engine, I know of only 2 other Dobry's.
Open crank, hit/miss, magneto with striking lever.
A surprisingly simple, big threshing engine, very long connecting rod, equipped with a roof.
The engine is quite rusty, the castings are pitted, but the mechanical condition is very good.
The magneto and a few minor things are now repaired, and the engine is running nicely : a very impressive engine.
The engine was not meant to be sold, but having a serious lack of space, something has to go.



Zeldzame motor, ik heb weet van nog 2 andere Dobry motoren, dat is alles.
Open krukas, raak-mis, slagmagneto, een verrassend lange drijfstang.
Een heel eenvoudige, grote dors-motor, met een dak boven de motor.
De magneto en een paar andere kleine dingen zijn nu gerepareerd, en de motor loopt prachtig.
De motor was voor mijn eigen verzameling bedoeld, maar er is ernstig plaatsgebrek, dus ... nu toch te koop.
---
jan_deklerck@hotmail.com (Index) (Photogallery)

Klima ? HP, ?? cm flywheel Ø, No 3060, ±350kg, ±1930




Klima (Czech Republic), approx 1925
Open crank, covered by a cast iron cover, hit-miss, magneto with striking lever.
Very massive, compact design. Klima is quite rare, hardly ever offered for sale.
Good condition, but the connecting rod big end is missing, otherwise complete.



Bouwjaar ongeveer 1925
Open krukas met gietijzeren kap, raak-mis, slagmagneto.
Zeer zware, compacte bouwwijze.
Klima is vrij zeldzaam, wordt bijna nooit te koop aangeboden.
De motor is in goede staat, maar de drijfstangkop is verdwenen.
---
jan_deklerck@hotmail.com (Index) (Photogallery)

Lorenz 3-4 HP, 57 cm flywheel Ø, No 8777, ±350kg, ±1930



Lorenz 4-6 HP, 81 cm flywheel Ø, No 8117, ±450kg, ±1930





This is a quite affordable engine, on original trolley, in good mechanical condition, almost ready to run.
This is the classic style of Lorenz engine, spoke flywheels, brass carburetor, hit/miss speed regulation.
A splendid engine when restored. (see photograph)
No 8177 is a quite early example (most Lorenz engines found have serial nos over 12000), it still has the lower HP rating, this size is the later 5-7 HP.
Characteristics of the earlier models are : smaller trolley wheels, and a cooling tank that has a flanged top (instead of the more usual rounded top).
The engine is in very good original condition.



Dit is een heel betaalbare motor, op origineel onderstel, in goede mechanische toestand, bijna bedrijfsklaar.
De bouwwijze is het oudere type, met spaakvliegwielen, geelkoperen carburator, raak-mis regeling.
Gerestaureerd wordt dit een prachtige motor. (zie foto)
Nr 8177 en 8777 zijn vroege exemplaren, de meeste Lorenz motoren die je ziet hebben serienummers boven de12000.
Nr 8117 heeft nog de lagere PK-aanduiding, deze motor werd later de 5-7 pk.
Karakteristiek voor dit oudere type is : het onderstel heeft kleinere wielen, en de koeltank is niet afgerond bovenaan, maar naar buiten toe overgeplooid, zodat een flens ontstaat waartegen dan een deksel bevestigd is.
De motor is in mooie originele toestand.


Diese preisgünstige Motor ist auf original Fahrgestell, gute mechanische Zustand, fast betriebsfähig.
Alte Bauart, mit Speichenschwungräder, Messing Vergaser, Ausklinkgeschwindigkeitsregler.
Restauriert wird ein solche Motor wunderschön. (siehe Bild)
Die meiste Lorenz Motoren die man findet, haben Nummer die grösser sind als 12000.
No 8777 hat noch die altere Bauart, die man an folgende Merkmale erkennen kann :
das Fahrgestell hat kleinere Räder, und das Kuhlgefass hat oben einen Flansch, statt der übllichen Verrundung.
Der Motor ist in schönen Originalzustand.



Ceci sont des moteurs dont le prix est tout a fait raisonnable.
Il est monté sur son chariot original, en bon état, presque prêt a tourner.
Type ancien, il a les volants à bras, carburateur en cuivre jaune, et réglage de vitesse avec système de déclic.
Un moteur restauré de ce type attire partout l'attention. (Voir photo)
Le No 8777 est assez vieux : on ne trouve pas facilement des Lorenz ayant un no de série en dessous de 12000.
Les chacteristiques d'un moteur ancien sont : roues plus petits, et le haut du réservoir d'eau a une bride vers l'exterieur, au lieu des coins arrondis qu'on voit d'habitude.
---

Lorenz 4 HP, 80 cm flywheel Ø, No 2060, ±650kg, ±1920





This is an exceptional engine, one of the oldest Lorenz engines found, in very good condition.
It has the valves at 90 degrees on one side of the engine, and the foot of the fuel tank is square, a very early Lorenz feature. I own 2 Lorenz open crank engines, one is low tension, and is No 962, the other is high tension and is No 4888. This proves how old this 4 HP (No 2060 !) is, although it resembles the later models. This only proves how sound the design was ...
The engine is in running condition, the magneto is OK. It is now fitted with a new replica cooling tank.




Dit is een uitzonderlijke motor, één van de oudste gevonden Lorenz motoren, in zeer goede toestand.
De kleppen staan onder 90 graden aan 1 kant van de motor, en de voet van de benzinetank is vierkant, kenmerk van een heel vroege Lorenz motor. Zelf heb ik 2 open-krukas Lorenz motoren, nr 962 (laagspanning) en nr 4888 (hoogspanning). Aan deze nummers kan je zien dat deze 4 pk (nr 2060 !) heel oud is, alhoewel hij toch veel weg heeft van de latere modellen.
Dit bewijst alleen maar hoe degelijk dit ontwerp was ...
De motor is in draaiende toestand, met een goede magneto. Er is nu een nieuw replica koelwatertank op gemonteerd.


Diese Motor ist ein sehr interessantes Angebot, es betrifft ein der älteste gefundene Lorenz Motoren, gut konserviert.
Die Ventile sind unter 90 Grad montiert, rechts am Motor, und der Fuß am Benzinbehälter ist Quadratisch, Merkmal einer sehr alte Lorenz Motor. Ich besitze auch 2 Motoren mit offenen Kurbeltrieb, Nr 962 (Niederspannungszundung)
und Nr 4888 (Hochspannung) : diese 2 Nummern zeigen wie alt diese Motor (Nummer 2060 !) ist, obwohl er modern aussieht. Der Motor ist in laufende Zustand. Jetzt mit neuen replica Wassertank.


Ce moteur est un des plus intéressants. Il s'agit d'un des moteurs Lorenz les plus anciens ayant étés retrouvés, bien conservé.
Les soupapes se trouvent à un coté du moteur, et la bride de montage du réservoir à essence est carré, caractéristique d'un moteur Lorenz des plus anciens. Je possede aussi 2 moteurs Lorenz au carter ouvert, le no. 962 (basse tension) et le no. 4888 (haute tension), ces numeros montrent clairement l'age du Lorenz 4cv, quoiqu'il a l'air assez moderne. Le moteur est en état de marche. Un réservoir d'eau neuf est monté.

---

Lorenz 3-4 HP, 45 cm flywheel Ø, No 20099, ±250kg, ±1938




Lorenz 3 HP, 45 cm flywheel Ø, No 22633, ±250kg, ±1938



Lorenz 5 HP, 56 cm flywheel Ø, No 24109, ±425kg, ±1939





These are petrol-paraffin engines. Price of course is lower than the older style engines. Still a very attractive engine. The crankcase has removable dust-covers, this was a standard fitting for this style of engine.
Engines no 20099 and 22633 are quite small, and have solid flywheels. It has a sideshaft carrying the cams, usual for a Lorenz, but unusual for an engine of this size ...



Dit zijn benzine-petroleum motoren. De prijs is natuurlijk lager dan de oudere motoren. Nog altijd heel klassiek van bouw. Het carter heeft opzij afneembare deksels, standaard gemonteerd bij dit type motoren.
Motoren 20099 en 22633 zijn vrij klein, en hebben volle vliegwielen.
Ze hebben een langsliggende nokkenas, standaard bij Lorenz, maar ongewoon voor zo'n kleine motor.


Diese Motoren sind Benzin-Petroleum. Weil sie junger sind, sind sie natürlich auch billiger. Immer noch sehr altmodische Bauart. Abnehmbahre Staubabdeckungen sind seitlich montiert, diese waren für diese Motoren Standard-Zubehor.
Motoren 20099 und 22633 sind ganz klein, mit voll gegossene Schwungräder.
Sie haben eine seitliche Nockenwelle, üblich für Lorenz, aber nicht oft an einen so kleinen Motor gesehen.


Les moteurs sont à essence et pétrole. Le prix est plus bas que les moteurs plus anciens. Les moteurs ont toujours l'aspect ancien. Ils ont des couvercles anti-poussieres amovibles des deux cotés, un accessoire standard pour ce type de moteur.
Les nos. 20099 et 22633 sont assez petits, ils ont les volants pleins.
Ils ont l'arbre a cames a coté du moteur, typique pour Lorenz, mais rarement vu sur un moteur si petit.
---
jan_deklerck@hotmail.com (Index) (Photogallery)

Benz 4-5 HP, 66 cm flywheel Ø, No 5929, ±350kg, ±1930



Benz 4-5 HP, 66 cm flywheel Ø, No 4129, ±350kg, ±1930





This is a smaller style Benz engine.
No 5929 is in good complete condition. Complete with magneto (no spark) and crankshaft cover plate (not shown). The engine has good compression and has been running for several hours now, using a magneto from one of my own engines. Damage to the cilinder has been repaired by expert welding.



Dit is een Benz motor uit de kleinere reeks.
No 5929 is in goede, complete toestand. Compleet met magneto (geen vonk) en kap boven de krukas (niet getoond). De motor heeft goede compressie en heeft al verschillende uren gelopen, met een magneet van één van mijn eigen motoren.
De cilinder was beschadigd, maar is professioneel en bijna onzichtbaar gelast.


Diese Motor ist ein Benz der kleinere Bauart.
No 5929 ist komplett und in gute Zustand. Komplett mit Zündmagnet (kein Funken) und Kurbelwellendeckel (nicht gezeigt). Der Motor hat gute Verdichtung und hat jetzt schon mehrere Stunden gelaufen.
Schaden am Zylinder ist fast unsichtbar repariert (geschweißt).



Ce moteur est un Benz du type plus petit.
Le No 5929 est complet et en bon état. La magneto (pas d'étencelle) et le couvercle du villebrequin (pas sur la photo) sont inclus.Le moteur a une bonne compression et a marché pendant plusieures heures déja.
Le cylinder avait des dégats, qui sont reparés (soudure professionalle quasi invisible).


---

Benz 4-5 HP, 53 cm flywheel Ø, No 7278, ±350kg, ±1938






This the later style Benz engine, only about 200 of these have been built : a quite uncommon engine. (see info).
Still fully open crank (with a cast iron cover), it retains most of the features of the older types.
Quite remarkable however are the valves : instead of being opposite each other, they are next to each other, in line, at the bottom of the cilinder, and the spark plug is on the side.
Although this makes operating the valves from the camshaft easier, combustion cannot have been as good as in the earlier models. The engine is in good running condition, retaining most of the Benz logo on the cooling tank.



Dit is één van de jongere Benz motoren, er zijn er maar ongeveer 200 van dit type gebouwd : een heel ongewone motor dus. (see info).
Nog altijd open krukas (met een gietijzeren afdekkap), lijkt de motor erg op de oudere types.
Maar wat echt opvalt is de klepaandrijving : de kleppen zitten niet tegenover elkaar, maar naast elkaar onderaan de cilinder, en de bougie zit aan de zijkant.
Dit heeft een zeer rechtstreekse klepaandrijving tot gevolg, maar het verbruik moet toch hoger gelegen hebben dan met de oudere motoren, wegens de minder gunstige vorm van de verbrandingskamer.
De motor is in goede draaiende staat, met nog het Benz logo op de koeltank.


Diese Motor ist ein Benz der "neueren" Bauart, nur etwa 200 dieser Bauart wurden gebaut : ein recht ungewöhnliche Motor (sehe Info).
Immer noch offenen Kurbeltrieb (mit gusseiserne Abdeckkappe), der Motor ist den älteren Bauart sehr ähnlich.
Den wichtigsten Unterschied sind die Ventile : das Einlass- und Auslassventil sind nicht gegenüber einander positioniert, aber nebeneinander, unten am Zylinderkopf, und die Zündkerze ist seitlich eingebaut.
Das ermöglicht zwar einen einfachen Ventilantrieb, soll aber, wegen den ungünstigeren Form des Verbrennungsraumes, einen höheren Kraftstoffverbrauch verursacht haben.
Der Motor ist in guten laufenden Zustand, mit noch das Benz Logo auf den Wasserbehälter.


Ce moteur est un Benz du type "nouveau", apparu juste avant la guerre, et dont seulement a peu pres 200 ont étés construits : un moteur hors du commun, donc. (voir info).
Toujoirs a carter ouvert (avec couvercle en fonte), il ressemble beaucoup le type ancien.
Mais une difference remarquable est la position des soupapes : au lieu de se trouver en haut et en bas de la culasse, ils se trouvent cote a cote, en bas, et la bougie est sur le coté.
Certes, ca simplifie l'entrainement des soupapes, mais la forme moins favorable de la chambre a combustion a sans aucun doute causé une consommation plus élevée.
Le moteur est en bon état de marche, il a le logo Benz sur le reservoir a eau.
---
jan_deklerck@hotmail.com (Index) (Photogallery)

Slavia 4 HP, 61 cm flywheel Ø, No 3803, ±550kg, ±1920



Slavia 4 HP, 61 cm flywheel Ø, No 1571, ±550kg, ±1915





The older slow running Slavia engines are hardly ever offered for sale. (see info). The older engine No 1571 is in very good condition, the younger one No 3803 is in good (running) condition. The older engine was not meant to be sold, but having a serious lack of space, something has to go.
These engines are hard to find, one of them is known to attract a lot of attention in England, where everyone seems to ask the same question : is this a Lister portable ?



Het oudere type Slavia motoren wordt zelden te koop aangeboden. (zie info). De oudste motor, nr 1571, is in zeer goede staat, de jongere No 3803 is in goede (draaiende) staat. No 1571 was om zelf te houden, maar als er plaats tekort is, moet er iets wijken ...


Die altere Slavia Motoren kann man nur selten kaufen. (Siehe Info). Der altere nr 1571 ist in sehr gute (laufende) Zustand, der jüngere nr 3803 ist in gute Zustand. Nummer 1571 war für meine eigene Sammlung, aber wenn Platzmangel herrscht, muss irgendwas gehen ...


Les moteurs Slavia du type ancien sont rarement offert à vendre. (Voir info). Le moteur no 1571 est en parfait état (marche), le plus jeune no 3803 est en bon état. No 1571 n'était pas à vendre, mais quand la place me manque, que faire ?
---

Slavia 3 HP, 45 cm flywheel Ø, No 21720, ±350kg, ±1936






This is the later petrol-paraffin version of the classic Slavia engine.
Much smaller than its predecessor, it was usually equipped with a thermo-syphn cooling tank very similar to the type used on a Benz engine.
But no 21720 has screen cooling, which was a fairly expensive optional extra, and is therefore quite difficult to find.
The net cooling makes for a much more handsome looking engine.
The engine is in very good condition, and has been witnessed running about 1,5 years ago, when owned by a Czech collector.



Dit is de gevolueerde, petroleum-benzine versie van de vroegere grote Slavia motoren.
Veel kleiner dan zijn voorganger, heeft de motor gewoonlijk een koeltank zoals die ook bij Benz gebruikt werd.
Maar no 21720 heeft netkoeling, in die tijd een duur optioneel extra, zodat deze uitvoering heel moeilijk te vinden is.
Met netkoeling is de motor veel mooier dan met een koeltank.
De motor is een heel goede staat, en heeft 1,5 jaar geledn nog gelopen bij de toenmalige eigenaar, een Tjechische verzamelaar.


Diese Benzin-Petroleum Motor ist entstanden aus die altere große Slavia Motoren.
Er ist viel kleine als vorher, und hat normalerweise einen Kühlgefass wie auch Benz.
Aber 21720 hat Netzkühlung, was damals ein teures optionelles extra war, und deshalb schwer zu finden ist.
Die Netzkühlung gibt einen viel formschöneren Motor.
Der Motor ist in recht guten Zustand, und hat vor 1,5 Jahren noch gelaufen, wenn er zu einer Tschechische Sammlung gehörte.


Voici un moteur petrole-essence qui est une évolution du moteur Slavia du type ancien.
Il est beaucoup plus petit, et est normalement doté d'un reservoir à eau pour le refroidissement.
Mais le no 21720 a le refroidissement classique, qui était une option chere, et est donc assez difficile a trouver.
Ce type de refroidissement donne un moteur beaucoup plus élégant.
Le moteur est en bon état, et je l'ai vu en état de marche il a 1,5 ans, quand il appartenait à un collectioneur Tjeche.
---
jan_deklerck@hotmail.com (Index) (Photogallery)

Svoboda and Novák, 56 cm flywheel Ø






This engine is in good original condition. Something apparently fell on it, causing some damage to the exhaust and to the cilinder. This is a quite rare engine. It is 2-stroke petrol.



Een nogal uitzonderlijke motor in vrij goede staat. Er is blijkbaar ooit iets op gevallen, dat zie je aan de uitlaat, en ook de cylindermantel heeft wat schade opgelopen. De motor is 2-takt, benzine.


Ein sehr interessante Motor, in ziemlich gute Zustand. Irgendwas hat damals gegen den Motor gestoßen, das ist am Auspuff zu sehen, und auch der Zylindermantel hat Schaden. Zweitakt, Benzin.


Un moteur assez rare, en assez bon état. Malheureusement, quelque chose est tombé dessus, l'échappement en est témoin, et le cylindre a des dégats. Le moteur est à essence, deux-temps.
---
jan_deklerck@hotmail.com (Index) (Photogallery)

Smolik, 50 cm Ø, ±175kg, ±1920





This is also a quite rare engine. Recently a Smolik engine was offered for sale at an Englih auction, and it fetched an extroardinary maount of money ...
Although the engine is unlike any other make, it also (see the "Little" engineon the "engines" page) inherited features from the International Tom Thumb (see the Info on the "engines" page), such as of course, the aircooling, but also the very distinctive way the inlet and exhaust elbowas are fitted by one screw and a briddle. The engine is in good condition and seems to have been running in a not too distant past. The magneto is not the original one.



Ook dit is een vrij zeldzame motor. Recent werd in Engeland een Smolik motor verkocht voor een onverwacht hoog bedrag.
Alhoewel de motor een sterk eigen karakter heeft, lijkt hij toch ook (net als de "Little" motor op de "motoren" pagina) kenmerken overgeerfd te hebben van de International Tom Thumb (zie de beschrijving op de "motoren" pagina)..
Hij is ook luchtgekoeld, maar ook de bevestiging van de inlaat en de uitlaat, met 1 bout en een dubbel gevorkt tussenstuk, lijkt heel sterk op die van de Tom Thumb.
De motor is in goede staat en lijkt nog niet zo lang geleden gelopen te hebben. De magneet is niet origineel.


Auch ein seltene Motor. Vor einige Monaten würde in eine Englische Auktion ein Smolik Motor für erstaunlich viel Geld verkauft..
Obwohl der Motor offensichtlich einen eigenen Entwurf ist, hat er auch (wie der "Little" Motor auf die "Motoren" Seite) Merkmale vom International Tom Thumb (sehe die Beschreibung auf die "Motoren" Seite).
Vor allem natürlich die Luftkühlung, aber auch die Befestigung der Einlass- und Auspuffkrummern, mit einen Bolzen und Druckstuck.
Der Motor ist in guten Zustand, und hat offensichtlich noch nicht so lange her gelaufen. Die Magnet ist nicht original.


Aussi un moteur assez rare. Recemment un moteur Smolik a été vendu en Angleterre, a une vente pubique, pour une somme qui était assez surprenante.
Quique l'ensemble du moteur est assez original, lui aussi (comme le moteur "Little" sur la page "moteurs") a des charactéristiques qui font penser au moteur International "Tom Thumb" (voir la description sur la page "moteurs").
Surtout le refroidissement par air, bien sur, mais aussi la facon de monter les tuyaux d'admission et d'échappement, au moyen d'un seul boulon et une bride.
Le moteur est en bon état, et apparamment il a été utilisé assez récemment. La magneto n'est pas originale.
---
jan_deklerck@hotmail.com (Index) (Photogallery)

Ruston PB, 52 cm Ø, No 207664, ±150kg, ±1950




This could be the affordable engine you need to start actively in this hobby. The fuel is petrol, and the engine is in running condition. Should the magneto fail, I can offer a spare one.



Dit zou de betaalbare motor kunnen zijn waarmee je in deze hobby actief van start gaat. Het is een benzinemotor, in draaiende toestand. Zou je later pech hebben met de magneto, dan kan ik een vervanger leveren.


Diese nicht teuere Motor konnte für Sie der Anfang einer aktive Hobby sein. Es ist ein Benzinmotor, in gut laufende Zustand. Falls die Zündmagnet doch enttäuscht, kann Ich eine Ersatzmagnet liefern.


Ce moteur ci, offert à bas prix, pourrait vous démarrer dans un passe-temps actif et passionnant. C'est un moteur à essence, en condition de marche. Si la magnéto tombe en panne, j'en ai une en stock.
---
jan_deklerck@hotmail.com (Index) (Photogallery)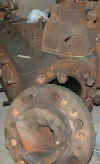 All kinds of parts of a 25 HP hot bulb tractor : cylinder, piston, connecting rod, cylinder head, flywheel, belt pulley, clutch, and so on ...



Allerhande onderdelen voor een 25 PK gloeikop : cilinder, zuiger, drijfstang, cilinderkop, vliegwiel, riemschijf, koppeling, enz...


Teile für 25 PS Glühkopf : Zylinder, Kolbe, Kolbenstange, Zylinderkopf, Schwungrad, Riemenscheibe, Kupplung, ...


Pieces pour tracteur à tête chaude : cylindre, piston, bielle, volant, poulie, embrayage, ...
---
jan_deklerck@hotmail.com (Index) (Photogallery)




Two low tension Bosch Magnets.



Twee laagspannings Bosch magnetos.


Zwei Bosch Niederspannungs-Zundmagnete.


Deux magnétos Bosch à basse tension.
---
jan_deklerck@hotmail.com (Index) (Photogallery)
---